Facebook/ Instagram
Follow us on our respective sites, for other latest news, photos, and other information

NERIS UK Folding Kayaks





NERIS UK Owners Group




NERIS UK Packrafts





NERIS Apparel


Prices
- Kayaks
- Packrafts
- Kayak Package Deals

Accessory prices are listed on respective Accessory pages
Announcements

01/10/23 - BORIKA FASTen range updated with more accessories - see here

23/02/23 - Lightweight variant kayak models
Lighter versions of the existing models now available to order on special request. Uses lighter materials all round. Ideal where weight is more important than "excess" toughness. Good for overland backpacking and air travel. Speak to us for details.

08/02/23 - Dry bag Package Deals
Discounted sets of dry bag pieces for your kayak available. See here

13/04/20 - Key differences between the kayak Series
Summary explaining the main differences between all four Neris Series here

22/03/20 - Borika FASTen range
We supplyi Borika's FASTen range of mounts and accessory holders for small crafts - see article on the Home page in the right hand column. Temporary list here




Kayak Series names
To avoid any possible confusion about kayak models when looking at photos etc - all Neris hybrid folding kayaks (EG Smart / Smart PRO) have a Series logo on the front side deck and all Neris folding kayaks (Alu / Valkure) have a Series logo on the rear deck.
EG - you will only see "NERIS SMART PRO" on all three Smart PRO models

Inquiries
No matter which country you are based in, do contact us with your queries. Prices are linked to the Euro - we will provide quotes in your preferred currency if not based in the UK. If there is already a NERIS dealer in your country, we will re-direct your query to them

Ordering
When you would like to order, contact us and we will provide up to date quotes. We will also send you an invoice with relevant payment details etc.

Or if you need advice etc, we are more than happy to help with your queries.


Looking to replacing the skin for your Pouch RZ85 or old Russian made kayaks?
Speak to us about a replacement skin for your German made Pouch RZ85-3 or old Russian Saliut/ Taimjen kayaks

Looking for something?
If you are looking for something that is not listed on our website please give us a call or email us.


NERIS
NERIS products are all made in Europe, using European / USA made materials and high grade German welding machines.

3-5 year warranty on all NERIS products (domestic usage)


Important Notice
It is your responsibility to ensure that you have a valid license / permission from the relevant authorities to use water craft on UK's waterways, rivers, lakes, etc. Not all inland water is open to paddlers, some access points / rivers are privately owned or is bounded by land which is private, so do check beforehand. Membership of a canoe union / club is very beneficial.

NERIS Valkure-1
Single seater folding kayak
Detailed Specifications




Kayak
"NERIS Valkure-1" - a modern hybrid framed single seater kayak with a very large cockpit - larger than most single seater folding kayaks. The Valkure Series also include bow-to-stern pair of integrated sponsons. The large cockpit has the advantage of being like a open Canadian canoe, allowing for very easy access to packed kit and also offers ease of entry to large paddlers or those with knee problems. This kayak is ideal for solo enthusiasts who prefer a reliable work horse for flat water expeditions on rivers and lakes, whilst still being perfect for short day trips.

Features
The kayak has an extra large sized cockpit with shorter front and rear decks, and comes with comfortable one piece inflatable seat with a tall backrest. The "NERIS Valkure-1" has wood cross ribs and duralumin longitudinal frame pieces with brackets made of stainless steel, which significantly improves the kayak's reliability, strength and endurance. With the larger cockpit, access to packed kit stowed in the front and rear portions of the open cockpit is easy - fit the spray cover on, then all the kit is under cover. You still have the usual under deck storage spaces, with the extra advantage of the decks being shorter - much easier to reach into the very ends of the kayak.

Design
The "NERIS Valkure-1" has a hybrid frame of a simple and reliable design. The boat is easy to assemble. The frame is made of high quality D16T grade anodized duralumin tubing. The cross ribs are made of high quality marine birch plywood, and is covered with a special coating produced by the Finnish company Tikkurila, which protects the wood against UV radiation, mildew and fungi. The skin is made entirely of durable PVC which does not absorb water, so after a paddle, simply wipe with a dry cloth and the kayak is ready to be packed. The cross ribs in the cockpit area are of the open design, which means you can sit anywhere within the cockpit. There are also integrated bow to stern air sponsons which helps to tension the skin over the kayak frame plus provide built in buoyancy.

Crew
Number of seats - one paddler. The standard spray cover has 1 keyhole shaped cockpit hole, and comes complete with 1 skirt and 1 cockpit cover.


NERIS Valkure-1 model has now been discontinued

Very few boats left in stock in various colours - contact us ASAP.

Spares, replacement skins and accessories will still be available

Construction
- Longitudinal frame pieces - anodized duralumin tube 16h1mm D16T
- Cross ribs - Marine birch plywood coated with special marine varnish
- Brackets - Stainless steel 0.8 mm
- Kayak skin - PVC with material density of 1050 g / m2 (hull) and 620 g / m2 (deck)
- Hull - profiled rubber protector strips glued along chines formed by keel bars and stringers
- Removable fasteners - stainless steel nuts/bolts
- Seats - PVC with a density of 600 g / m2 with inflation tubes and twist valves
- Packaging - Cordura. Backpack (120 x 25 x 50 mm ) (NOTE - If you prefer to reduce weight of the single bag, request a 2 bag set)
- Longitudinal internal sponsons - PVC tube

Longitudinal alu frame pieces, wooden cross ribs, and folded kayak skin

Specifications

Length of 4.00 m

Width - 0.70 m

Weight - 21 kg

Number of seats - one

Load capacity - 120 kg

Assembly time - about 20 minutes


Product Videos:-
Video 1

Materials

Hull - Mehler PLASTEL 5-ply PVC TE90 (900 g / m2)

Deck - Mehler PLASTEL 5-ply PVC TE62 (620 g / m2)

Packaging - Cordura 100

Stringers - anodized pipe brand D16T (DIN 2024)

Keel bar / Keelson - profiled aluminum oval tubes

Cross ribs - Finnish marine grade plywood

Sponsons - clear PVC tubes

NERIS Valkure-1 single seater kayak

Overview showing the huge open storage space behind the seat and a smaller one at the front. The under deck storage spaces are easily accessible, unlike most other kayaks with long deep decks.



Paddler's feet will be short of the wooden cross rib on the left - front stowed kit can be filled up to this cross rib.




Without spraydeck cover ...



Spray deck cover fitted. The keyhole cockpit is still large for easy access. The spray deck cover covers kit stowed within the cockpit - you can lift the front or rear part of the cover to access that section of the cockpit without needing to take the whole spray deck cover off.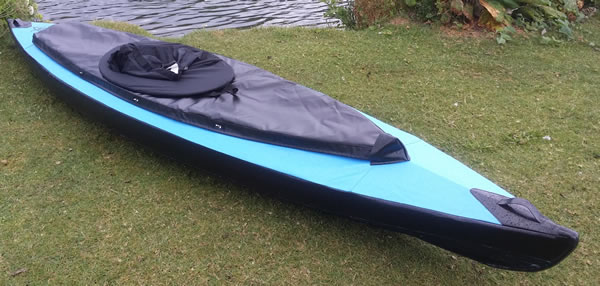 Waist skirt fitted ....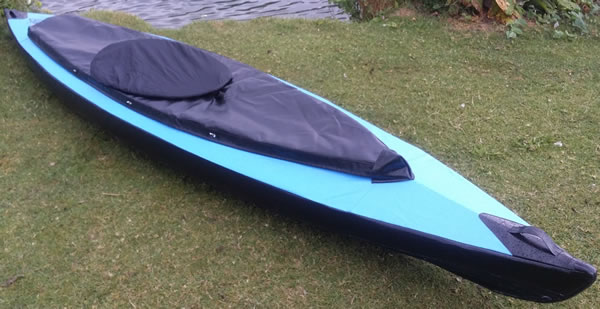 Cockpit cover fitted. Use to close off kayak when camping overnight, or car topping.