Multi-role hybrid folding kayak / canoe
NERIS SMART Series

Hybrid kayak models - a cross between a folding kayak and partially an inflatable kayak
Hull is the same as in folding kayaks, side walls the same as in inflatable kayaks!
Fewer frame parts compared to traditional folding kayaks

Use as a kayak with normal floor seats and double bladed paddles,
or optionslly as a canoe with bench seats and single bladed paddles

Very easy and quick to assemble
From backpack to water in average 8 minutes!

SMART-2, SMART PRO, and SMART-3 can include fittings
for the GENAKER "A" Frame sail rig
SMART-2 and SMART PRO can be used as a single seater kayak
with the inflatable seat positioned in the centre

Preview video of SMART-2 (produced Winter 2016)
More details on the SMART Series here

---
Folding kayaks
NERIS Alu and Valkure Series
The traditional
folding kayak range
comprises of two main
Series
, each including
a single seater, a double seater and a family sized multi-seater kayak
Alu Series
folding kayaks - all aluminium frame
Valkure Series
folding kayaks - wood & alu hybrid frame plus bow to stern internal sponsons
Valkure-1 production has been discontinued - a new single seater design is under consideration
Videos on each of the Neris model folding kayaks in action - view on this
page
---

Neris Alu-3 three seater folding kayak and Neris SMART-2 two seater hybrid folding kayak

---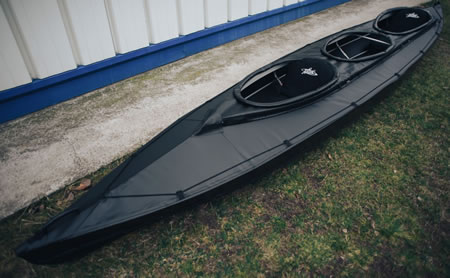 A special delivery -2 all black Neris Alu-2 500 double seater kayaks
All black colour choice is now available for all model kayaks on special request
NOTE - Central cockpit in spraydeck of this kayak model is a loading hatch - can optionally be used to seat a small child with a purchase of an additional seat
---
Sponsorship of 5 folding kayaks for the
'Cockleshell Endeavour' PTSD Recovery Program teams which participated in the Devizes to Westminster 2017 Canoe Race
NERIS UK sponsored 5 Olive Green Valkure-2 550 folding kayaks for the Cockleshell Endeavour PTSD Recovery Program. The kayaks was used initially by teams of ex-Royal Marines / Commandos mentors & veterans training for and racing in the Folding Boat Class in the Devizes to Westminster 125 mile non-stop race held annually over the Easter weekends. Help raise awareness about PTSD by supporting this charity.
Details
---
Available - made on request only
Guitar Dry Bags
Take your treasured guitar with you on your canoe trips
- Made of tough 620g PVC (same tough grade as used on our kayak decks)
- D-rings on the back to secure to your canoe
- Removable or fixed shoulder straps
Contact us if interested