Go canoeing
in a
foldable kayak!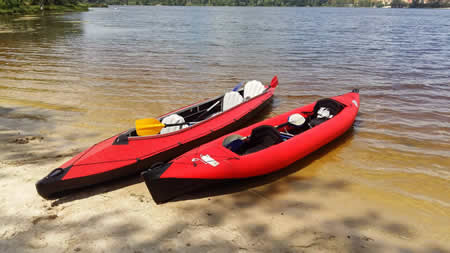 Neris Alu-3 three seater folding kayak and Neris SMART-2 two seater hybrid folding kayak


Folding kayaks - Alu and Valkure Series


The folding kayak range comprises of two main Series, each including
a single seater, a double seater and a family sized multi-seater kayak

Alu Series folding kayaks - all aluminium frame
Valkure Series folding kayaks - wood & alu hybrid frame plus bow to stern internal sponsons

Videos on each of the Neris model folding kayaks in action - view on this page

---

New multi-role hybrid folding kayak / canoe
NERIS SMART Range

Hybrid models - a cross between a folding kayak and an inflatable kayak
Hull is the same as in folding kayaks, side walls the same as in inflatable kayaks!

Use as a kayak with normal floor seats and double bladed paddles,
or as a canoe with bench seats and single bladed paddles

Neris SMART-2
4.85m long, 95cm wide, weighs 19kg
With alu keelsons and cross ribs
Use as a double seater or as a single seater
From backpack to water in only 8 minutes


Preview video
Details here
Email us if you wish to view / try out


The rest of the SMART family will be available from October 2017 ....
Single seater SMART-1 and triple seater SMART-3
SMART-2 and 3 will also include fittings for the GENAKER "A" Frame sail rig
Details here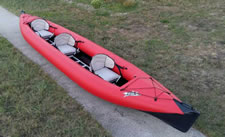 ---
A recent delivery - 2 all black Neris Alu-2 500 double seater kayaks
All black colour choice is now available for all model kayaks on special request
NOTE - Central cockpit in spraydeck of this kayak model is a loading hatch - can optionally be used to seat a small child with a purchase of an additional seat
---
Sponsorship of 5 folding kayaks for the
'Cockleshell Endeavour' PTSD Recovery Program teams which participated in the Devizes to Westminster 2017 Canoe Race
NERIS UK sponsored 5 Olive Green Valkure-2 550 folding kayaks for the Cockleshell Endeavour PTSD Recovery Program. The kayaks was used initially by teams of ex-Royal Marines / Commandos mentors & veterans training for and racing in the Folding Boat Class in the Devizes to Westminster 125 mile non-stop race held annually over the Easter weekends. Help raise awareness about PTSD by supporting this charity.
Details
---
Available - made on request only
Guitar Dry Bags
Take your treasured guitar with you on your canoe trips
- Made of tough 620g PVC (same tough grade as used on our kayak decks)
- D-rings on the back to secure to your canoe
- Removable or fixed shoulder straps
Contact us if interested
NOTE
ZelGear inflatable kayaks and catarafts have been transferred from this site to our new sister ZelGear UK site

.

Please refer to the ZelGear UK site for the latest information on ZelGear products