Prices

Hybrids - Overview page
Standard - Overview page
Package Deals - PD page

Accessory prices are listed on respective pages

Announcements

23/01/18 - new video of a trio of SMART-2 hybrid kayaks off the coast of Turkey

12/11/17 - demo kayak & canoe version SMART-2 available to try out (South England). Photos here

23/10/17 - 2018 DW race.
Considering entering in the 2018 Devizes to Westminster non-stop canoe race in the Folding Boat Class? Speak to us about the very competitive Neris Valkure-2 folding kayak ASAP

01/010/17 - Neris SMART-2 & 3 now have sail rig fittings attached as standard. Compatible with the Neris GENAKER A-frame sail rig

13/08/17 - demo Neris SMART-2 available for try-outs (South of England)

08/08/17 Introduction of the Neris SMART range of hybrid canoe/kayaks - web pages added

16/04/17 Congratulations to the crews who completed in the gruelling Devizes to Westminster 125 mile non-stop canoe race held over the Easter weekend. Of 13 folding kayaks that entered in the Folding Boat Class, Neris Valkure-2 kayaks came 4th, 5th & 10th with one retirement.

28/02/17 - Product Videos page added. See videos on each of the NERIS folding kayak models in action here

09/02/16 - New hybrid 1-2 seater kayak / canoe coming soon - Neris SMART-2. A cross between a folding kayak and a fast inflatable kayak. From bag to water in 10 minutes!

22/01/17 - new colour now available to the folding kayak deck colour range - Black! Yes, uber sexy black, looking just like a military kayak! A few all black Neris Alu-2 folding kayaks have already been supplied to Canadian armed forces





Enquiries
No matter which country you are based in, do contact us with your queries. Prices are linked to the Euro - we will provide quotes in your preferred currency if not based in the UK.

Ordering
When you would like to order, write to us and we will provide up to date quotes. We will also send you an invoice with relevant payment details etc.

Or if you need advice etc, we are more than happy to help with your queries.



Looking to replacing the skin for your Pouch RZ85 or Russian made kayaks? Speak to us about a replacement skin for your German made Pouch RZ85-3 or Russian Saliut / Taimjen kayaks.

Looking for something?
If you are looking for something that is not listed on our website please give us a call or email us.


NERIS
NERIS products are all made in Europe, using European / USA made materials and high grade German PVC welding machines.

5 year warranty on all NERIS products


Important Notice
It is your responsibility to ensure that you have a valid license / permission from the relevant authorities to use water craft on UK's waterways, rivers, lakes, etc. Not all inland water is open to paddlers, some access points are privately owned or is bounded by land which is private, so do check beforehand. Membership of a canoe union / club is very beneficial.

UK's 'Song Of The Paddle' forum is a very friendly and useful site to obtain up to date information of all kinds regarding canoeing inland waters, both in the UK and Europe


HAPPY TRIO
Folding kayak promotion

Happy Trio folding kayak promotion - The Details

1 - Free paddles
The paddles on offer are the very popular TNP 702.2 Asymmetric split alu shaft paddles - easy to pack away in the supplied kayak bag. Paddle quantity in the HAPPY TRIO offer is based on the respective kayak's stated adult seating capacity - EG NERIS Alu-1 / Valkure-1 is 1 paddle, NERIS Alu-2 / Valkure-2, is 2 paddles, and NERIS Alu-3 / Valkure-3 is 3 paddles.

Blade colours available - red, yellow & blue. Paddle length is 220cm or 240cm. If you prefer to opt for lighter TNP 712.2 glass fibre or 722.2 carbon shaft (black blades only), you just need to pay the price difference. Glass - £23.00, Carbon - £45.00.


2 - Free deck prints customisation
The process
NERIS own in-house graphic designer will work with you (via ourselves), producing a draft design schematic of your chosen kayak model and colour so that you may check and finalise the sizing and locations of your images, logos or text. Once we have received the OK from you regarding the final layout, the kayak deck printing and kayak skin production will start. This whole manufacturing process will take about 1-3 weeks depending on demand at the time. Once the kayak skin has been made, the complete kayak package will be shipped to NERIS UK which will take about 1-2 weeks (kayak frames is always in ready stock).

The deck printing details
The PVC artwork printing is done by an external specialist PVC printing company, printing directly onto NERIS supplied PVC material that will be used to make your kayak! Yes, that's right - the deck PVC will be custom printed before the material is cut to make your kayak's skin. It is not PVC printed decals stuck onto the deck!


A pair of two different logos printed onto a Olive Green NERIS Valkure-2 for Cockleshell Endeavour

Available logo, design or text positions and sizing on the kayak
Below are schematic drawings showing possible locations of logos, images or text - within the red shaded areas on both port and starboard sides. On request, we can email you a blank schematic drawing file for yourself to print out to draw on and then take a photo to email back to us. We recommend that no artwork is positioned across the kayak's bow to stern centre line as the folding of the skin may wear out the print.

NERIS ALU SERIES - all three kayak models in the Alu (Transformer) Series have the same bow and stern construction (frame pieces are identical and interchangeable), hence the artwork designs all have the same available dimensions. The schematic drawing below is of the NERIS Alu-2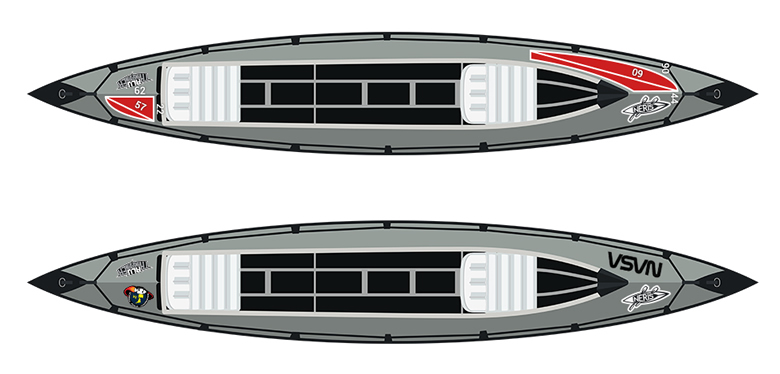 NERIS VALKURE SERIES - the schematic drawing below is of the NERIS Valkure-2. The NERIS Valkure-1 has a very small front deck, so the best position is the rear deck. The NERIS Valkure-3 has a very similar sized deck layout to the NERIS Alu Series boats.


Opting to use the NERIS UK "sponsored" logo offer (10% off the price of the kayak)
All kayaks, as standard, have a small rubberised NERIS logo on the rear deck. This promotional HAPPY TRIO "sponsored" NERIS UK image is an additional enlarged NERIS logo printed together with the boat model name in text underneath (EG "Valkure-2") and below that, in smaller text, the UK site's website address. You choose where this "NERIS UK" pair of logos must go - front or rear deck.

Own artwork - graphic file formats:-
- The image file format must be JPG, BMP, PNG, PDF, TIFF (not less than 1000 pixels)
- If it is a company logo, etc. the file must be in a vector format (CDR, EPS, AI, SWG, PDF, PSD)
- If you do not have graphic image file/s, then provide samples & descriptions for our in-house graphic designer who will create the required file for you.


3 - Sail when you can - paddle when you must
Both NERIS downwind and upwind types of sail rigs are available in the HAPPY TRIO offer - the sail rigs are compatible with all the kayak models with the exception of the NERIS Valkure-1. If you choose the NERIS Valkure-1 as your kayak, and would like to get a sail rig, we will offer a pop-up WindPaddle SCOUT downwind sail rig (not made by NERIS) with a discount of 20% off that sail rig.



.... the last bit
Contact us to discuss your ideal kayak needs, and we will assist in recommending the best kayak for you. Thereafter we can then nail down to the fine details etc. Once the kayak choice and artwork design has been finalised, there will be just be an up front deposit to place the order, with the balance due on delivery.